Incite Group is a trading name of FC Business Intelligence Ltd.
Registered in England and Wales no.4388971. Registered address 7-9 Fashion Street, London, E1 6PX, UK
Join 500+ senior figures leading the way in digital product, user experience and engagement in the age of connected customer.
With consumers using multiple devices, brands now need to manage their digital product strategy and operate seamlessly across the entire digital ecosystem. Creating consistent and personalized experiences through digital product is crucial to any brands future success.
Download your brochure now for full agenda and speaker line-up >>>
The Industry's Chosen Themes for 2018
Open Product in the Age of the Connected Consumer: The number of connected devices that consumers use has increased and now includes numerous devices such as tablets, mobile phones, desktop, conversational interfaces and wearables. Consumers are more informed than ever, with more available options, and want a seamless connected experience across their whole interaction with a brand. Find out how to meet their expectations.
Delivering Seamless, Personalized Experiences: As the digital landscape evolves it is crucial that brands offer personalized and useful experiences and interactions to their consumers. Artificial intelligence is enabling brands to move their digital strategy and personalization efforts to a whole new level.
Integration of New Technology into Digital Strategy: With a huge shift in the way people interact with brands and the devices they do so changing it is critical to evaluate new technologies. Voice assistants and immersive technology are just some of the technologies entering and disrupting the current scene.
Engaging Consumers in a Fragmented Landscape: As the roles of traditional marketing merge with the overall objectives of product teams the focus is now firmly on customer engagement. From acquisition through to retention brands need to discover new ways to keep the connected consumer engaged and drive growth.
Download your brochure now for full agenda and speaker line-up >>>
Globally Renowned Speakers for America's Biggest Brands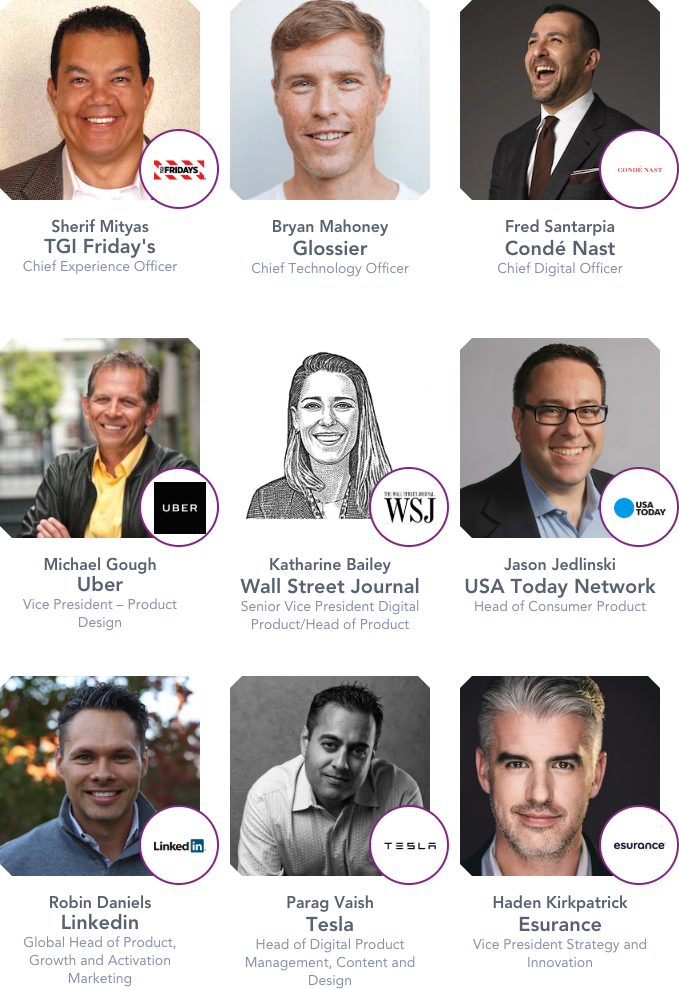 Keep up to date with all the agenda and speaker updates by downloading your event brochure >>>
Please let me know if you have any feedback, or if you want to get involved with the event.
Kind regards,
The USA's Leading Event for the Digital Product, User Experience and Engagement Community
Download your event brochure

Complete your details below to download the full event brochure pdf, which includes:

Updated speaker line-up and who you will meet
The agenda and key themes to be discussed
Information on registration discounts and pricing