Download your brochure for the best marketing conference of 2017!
The Incite Summit is the best marketing conference of 2017, and incorporates three distinct conferences
– on personalization, content and storytelling, and marketing attribution.

Bringing together Chief Marketing Officers from major US and global brands, the event will give in-house marketing executives all the skills they need to deliver exceptional marketing, track success and accelerate growth.

Drop your details in the box on the right to receive the latest brochure, including details on:

The unrivalled roster of Chief Marketing Officers and other innovative marketing leaders who will
share their expertise with you


Cutting-edge industry keynotes, case-studies and debates: Conquer key challenges, discover new opportunities and deliver seamless, relevant and engaging marketing


A whole host of senior marketing decision-makers attending from across the most powerful and innovative brands in the USA!


Exclusive discounts on registration you won't find anywhere else!
Enter your details on the right to get sent the event brochure which includes the full event details >>>>



Marketing visionaries confirmed to speak in 2017 include: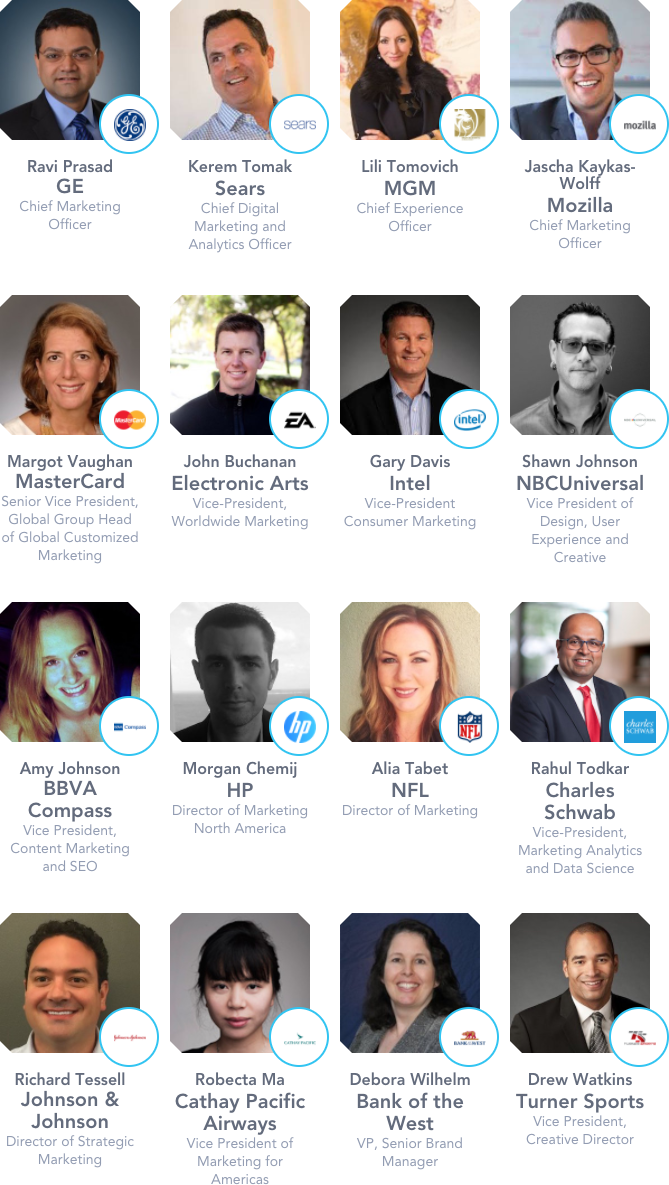 Enter your details on the right to get sent the event brochure which includes the full speaker line-up >>>>



3 in-depth marketing conferences on the key issues in 2017 and beyond

The three conferences will focus on:

PERSONALIZATION: Understand your customer better to market with more precision and engage more deeply

CONTENT & STORYTELLING: Less content, more relevant content, and more promotion - take the next step in the maturation of content marketing

MARKETING ATTRIBUTION: Learn to trust your marketing metrics again - reliable measurement and better insights to fail fast and learn faster



To get sent the full agenda including a breakdown of each session, enter your details on the right to get sent the event brochure >>>>







To get sent a breakdown of who will attend, enter your details on the right to get sent the event brochure >>>>

Don't miss out on the most valuable two days out of the office in 2017!

Best,

Aaron Jackson
Project Director & Business Development
The Incite Group
US (Toll Free): 1800 814 3459 ex.7244
World: +44 (0)207 375 7244
Email: aaron@incite-group.com



The Incite Group is a part of FC Business Intelligence Ltd Registered company in England and Wales.
Registered number 04388971, 7-9 Fashion Street, London, E1 6PX, UK| Terms and conditions

Please note that by downloading this brochure you also subscribe to receive similar information from The Incite Group

Josh Gordon
Senior Project Director
The Incite Group
USA Toll Free: 1800 814 3459 EXT: 4348
T: +44 (0) 207 422 4348
Email: josh@incite-group.com


Download the Incite Marketing Summit brochure:

Complete your details below to request the full 8 page event brochure pdf, which includes:

Full speaker line-up and who you will meet
The complete agenda and key themes to be discussed
Networking opportunities throughout the two days
Information on registration discounts and pricing
Exclusive Discount off Registration